Courses
Remote Pilot training:
Recognizing DGCA Safety Regulations trainees are encouraged to develop safety attitude while flying Drones. Upon completing the course, trainee will be able to Identify different types of Drones & will have clear understanding on fundamentals of Flight (Aerodynamics), ATC procedures & Radio Telephony, different regulations of DGCA, Civil Aviation Requirements, Weather and meteorology.
Course Outcomes:
Our certified trainee will be able to
Develop & apply knowledge of Airframes, Electric motors & Propellers. Identifies & selects Electronic Speed Controllers (ESC) & flight Controllers for Drones.
Recognize application of Batteries, Chargers & Connectors, Transmitters & Receivers, Cameras, Gimbals & other payloads.
Apply knowledge of Ground Control Stations & FPV.
Perform Assembling, MRO & battery care of Drones.
Identify& selects Basic operating features of a Drone Flight Simulator.
Fly a Drone with instructor
Perform solo flight Carry out entire flying operations from pre-flight checks to after flight checks while flying a drone in simulator training & live training.
The DGCA licensed course offers:
Ground training
Simulator flying
One on one practical flying
Solo flying
Instrument flying
Exposure to various emergency procedure
Eligibility:
Qualification - 10th Pass English Medium
Age - 18 years
Segments of our training
Basic training and theory sessions
Regulations of DGCA , Civil Aviation Requirements
Classification
Basic Air Regulations
Salient points
Do's and Don'ts
Instrument flying
Exposure to various emergency procedure
Basic principles of flight
Fundamentals of flight
Aerodynamics
Take-off, flight, and landing
Manoeuvres, turns and circuit pattern
Drone equipment maintenance
Maintenance of drone, flight control box, ground station
Maintenance of ground equipment, batteries and payloads
Scheduled servicing
Repair of equipment
Fault finding and rectification
Emergency identification and handling
In flight emergencies
Loss of link
Fly-aways(Straying)
Loss of power
Control surface failures
Payload, installation and utilization
Types of payloads
Parts of payloads
Installation
Features of payloads
Utilization
Image and video interpretation
Principles of observation
Interpretation of image/video
Analysis
ATC procedures & Radio Telephony
Understanding ATC operations
Airspace Structure and Airspace Restrictions with knowledge of No Drone Zones
Communicating with ATC including Position and Altitude Reporting
Flight Planning Procedures
Collision avoidance
Radio Telephony (RT) techniques
Standard radio terminology and RT Phraseology
Practice Session in Radio Communication
Weather and meteorology
The standard atmosphere
Measuring air pressure
Heat and temperature
Wind
Moisture, cloud formation
Met Terminal Aviation Routine Weather Report (METAR)
Multi rotor introduction
Basic drone terminology
Types of drones, material used and size of drones
Motors and propellers
Electronic Speed Controller (ESC), flight controllers
Operation and Applications of drones
Advantages/disadvantages over multi rotor drones
Simulator Training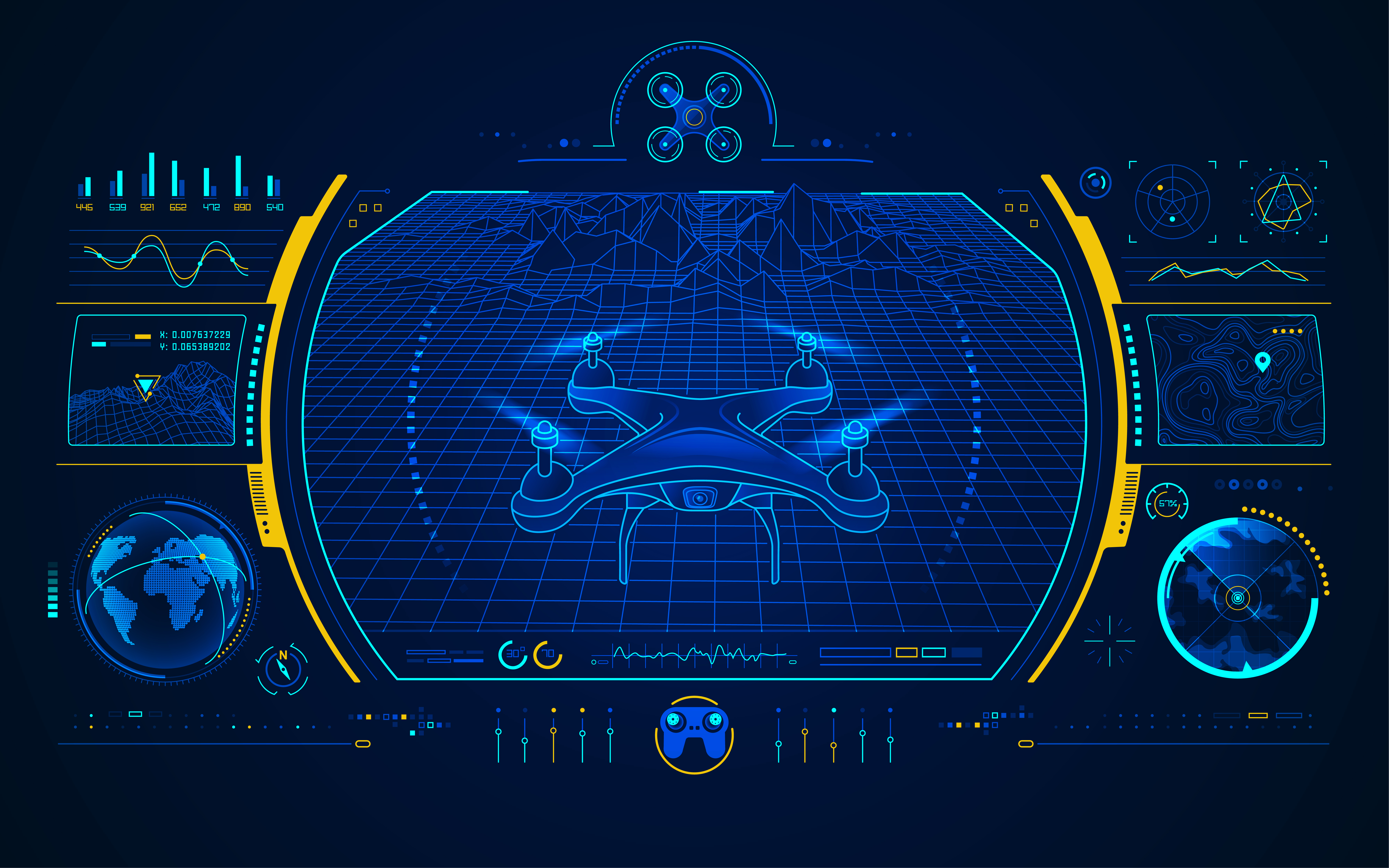 Introduction to flight simulator
Basic operating features of simulator
How to select different aircrafts and aerodromes
Demo flight
Flight simulator training
Pre-flight checks and start-up
Preparation cum coordination for flight
Take-off and flight stage
Approach and landing
After flight checks
Practical sessions
Practical lessons in Lab
Assembling of drone
De-assembling
Integration of sub-sections/ modules
Integration of engine/propulsion system
Fault finding and rectification
Repair maintenance and documentation
Practical lessons on field
Practical flying with instructor
Practical flying with instructor/solo flying
Practical flying with instructor/solo flying